Project Kärcher KCRC-West Hongkong
Customer

KCRC Hongkong

City

Hongkong / China

Supplier

Kärcher

Planning

Commissioning

Hand over

4/2003

6/2003

8/2003
Projectdesription:
The plant is used to wash metro-trains from the Hongkong Metro. The washplant can wash the train with acid and alcaline detergent.
The washingtime is between. 11-15 min for a 6-cartain (120m) with front and rearwash . It is no operating personal at the plant necessary.
The project KCRC West Hongkong contains
| | |
| --- | --- |
| | development from plant software |
| | communication via fiber optic to control center |
| | commissioning |
Controlling:
To control the plant a Simatic S7 400 is used with a CPU 414-3 DP . The Sensor/Actors are controlled viaInterbus - S
A remote touch panel is used to communicate via fiber-optic and PROFIBUS-DP protocol to the CPU.
Control Room: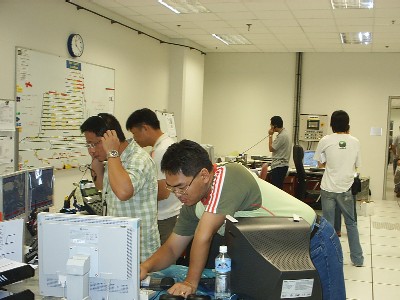 The Operating of the plant is done by the operaters in the DCC-Controlroom.The distance to the plant is appr. 1,2km. The incomming train must report to the Operator . If the Operator starts the pla, the Traindriver is authorized to drive throw the plant.
Bodywash:
The Bodywash includes Front-Rearwash. It will be exectued after the train stand in correct postion. The side-wash is done by moving train. The train driver get order via visual matrixboards in english/chinese language.
A measurement of the train speed shows the train driver the actual speed and the information that he move to fast, or to slow.
Underframewash:
The Underframewash is used to clean the trains underframe before maintenance work . The train will positioned over 2 trolleys, which move from one end to the other and wash the train with high-pressure
Critical sections like Transformers, Inverters will automatically not washed.